BIOGRAPHY
HOME PAGE
MODEL OF METAPHORS
FREE SPEECH LAWSUIT
POLITICS OF MOVIES
DANEgerus
Patrick Garry, novelist
Review of Salishan
by Fred Delkin
Oregon Magazine
Review of Salishan
Review of Hollyworld
by Will Rayment
The Conservative Monitor
Peter Carafiol
Free Speech
Metaphor
archetype
Blacklist
Hollywood Novels
McCarthyism
Communist propaganda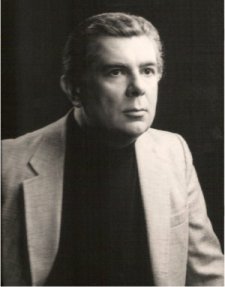 Michael Alton Hollister was born in Los Angeles, California on 21 December 1938. His Scots-Irish mother Ruth Brown fell in love with Alton Gunderson, a boy on a neighboring farm near the rural crossroads of Oakville, Oregon. These Browns were descendants of pioneers from Missouri and Kansas. One family ancestor fought in the American Revolution and another Brown fought for the Union in the Civil War. The Gundersons were Norwegian immigrants who moved from North Dakota to Oregon during the Great Depression of the 1930s. When they moved on to Los Angeles in 1937, Ruth followed and soon married Al. Michael was born in Bell Hospital and lived his first three years in a small house in what is now Watts, in south central Los Angeles.
Before he learned to read, his mother introduced him to classic mythology and world literature through a set of anthologies of stories adapted and illustrated for children. His parents separated just before the attack on Pearl Harbor in December 1941. After 1942, he never saw his father again. At day care centers, he refused to eat. Consequently, his mother had to send him to live with her parents, Clarence and Ida Brown, on the farm in Oakville, while she worked at a defense plant in Los Angeles. For over a year, he attended a one-room country school just across a field from the farm, and Sunday school and church services at the Oakville Presbyterian Church, built by pioneers in 1853. His grandparents, other relatives and the whole rural community gave him stability, love and discipline that shaped his character.
At the defense plant, his mother met and soon married Richard Hollister, originally from Akron, Ohio. He had been in the movie business and had custody of his two daughters by his first wife, Roberta and Carol Ann, one older than Michael by six months, the other younger by six months. Richard adopted Michael and the family lived on an acre ranch in the San Fernando Valley previously owned by a movie producer, raising chickens and rabbits for market. Their neighbors included Clark Gable, John Huston and Andy Devine. After the war, they moved up to Portland, Oregon, half a block from Montavilla Park, where Michael spent much of his time, swimming and playing baseball.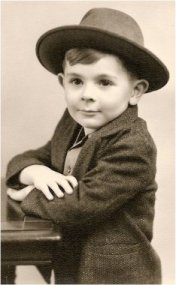 At age nine he became a newsboy, selling papers in taverns and elsewhere, based in a grocery store on the corner of N.E. 82nd and Glisen owned by a Chinese family, where his mother worked as a cashier. At age ten, he delivered The Oregon Journal daily newspaper in the afternoons on a bicycle route around Montavilla Park, then from age eleven to fourteen he delivered The Oregonian in the early mornings on a double route on and around Mount Tabor. While attending John L. Vestal elementary school on 82nd Street, he was selected for a panel of four students who reviewed books for kids on radio station KBPS, at Benson High School. In the seventh grade, he started writing his own weekly newspaper with cartoon illustrations. He loved Portland and rode his bicycle out to Blue Lake Park and to the Clackamas and Columbia rivers to swim and fish. At the old Washington High School in midtown Portland, he played sports and did writing and cartooning for the student newspaper. In the summers, he worked picking beans and berries, set pins in bowling alleys, cleaned vehicles in a used car lot and drove a truck in the pea harvest near Pendleton, Oregon.
In 1956 he enrolled at the University of Oregon on a scholarship, intending to become a cartoonist or a painter, until he fell in love with language while reading Shakespeare, the English Romantic poets and James Joyce. While studying fiction writing with Sylvan Karchmer and novelist James B. Hall, he began writing stories influenced by the styles of Joyce, Hemingway and Faulkner. Thereafter, he founded and edited Facets, a short-lived literary supplement to the student newspaper, The Emerald, drew cartoons for the paper and helped found the literary magazine Northwest Review. He worked his way through school as a houseboy at the Delta Gamma sorority house. During the summers he worked as a warehouseman and delivery truck driver in Portland, as a commercial artist in Portland and Eugene, and as a draftsman in Santa Clara, California. He joined Phi Delta Theta fraternity as a freshman and lived in their house from Fall 1957 until December 1959, when he married a classmate, Carlyn Jo Compton of Portland.
He graduated from the university Phi Beta Kappa in 1960 and accepted a commission as a lieutenant in the U.S. Army, having completed four years of ROTC. A few days before he began serving two years active duty, his son Dane was born in Eugene. He went through the Infantry Officers Orientation Course at Fort Benning, Georgia, then the Army Intelligence School at Fort Holabird, Maryland, and was stationed at the Presidio of San Francisco, California. As a special agent in the Counter Intelligence Corps, he wore civilian clothes and was second in command of the San Francisco Field Office. A few days after his discharge in July 1962, his son Evan was born in the Presidio military hospital.
Thereafter, he was able to attend graduate school at Stanford University on fellowships and by working as a Teaching Assistant, a researcher at the Stanford Research Institute, a reader for novelist Wallace Stegner and an instructor of fiction writing at Stanford. Among his other professors were Malcolm Cowley, Irving Howe, Frederick J. Hoffman, Ian Watt, Claude Simpson, David Levin, H. Bruce Franklin and Yvor Winters. He passed five written comprehensive exams in three periods of British literary history and two periods of American literary history, ranking second in a class of 45, earning an M.A. in 1966 and a Ph.D. in 1967 after completing a dissertation on Nathaniel Hawthorne.
In 1966 he accepted a position at Portland State University in Portland, Oregon, where his parents and other relatives lived, mainly because he loved the area. There he taught American literature and writing for 32 years. His main course, the three-term sequence "American Literature and Culture," integrated literary and cultural history, structured according to the principles set forth in his article
MODEL OF METAPHORS
. Among contemporaries, he taught novelists including Thomas Pynchon, Toni Morrison, Don DeLillo, Margaret Atwood, Cormac McCarthy, Louise Erdrich, John Irving and Tim O'Brien. In March 2001 he won a unanimous
ruling
from the 9th U.S. Circuit Court of Appeals that protects the free speech rights of faculty in higher education: Hollister vs. Tuttle, D.C. No. CV-95-01999-JJ. He was harassed out of a tenured professorship and his novels were blacklisted. He is grateful for the support of his students and of his colleagues Carol Franks, Marge Kirrie, and Marjorie Burns.
In 1971 he traveled in the Caribbean and during 1973-74 he traveled in North Africa and throughout Europe. He and Carlyn divorced in 1971 and in 1994 he married Judy K. Smith, originally from Eugene. In 1998 he retired early to write full time. Judy saved his life, edits his books, persuaded him to write about Hollywood--overcoming his resistance to the subject--and suggested expanding the first draft of Follywood into a trilogy. She has a grown son from her first marriage, Vaughn Zeitzwolfe of Portland, giving Michael a total of three sons, four grandsons and three granddaughters. Dane resides in Sherwood, Oregon and Evan in Bend, Oregon. Michael and Judy now live in Brookings, Oregon with their two west highland terriers.
ONLINE:

AmerLit.com: American Literature 1620--present (February 2015)

NOVELS:

Interface Race (AuthorHouse, 2009)
Salishan (AuthorHouse, 2007)
Hollyworld (AuthorHouse, 2006)
Follywood (AuthorHouse, 2005)
Holywood (AuthorHouse, 2004)

SHORT FICTION:

"Easy Riders," Oregon Literary Review.org 1.1 (Winter/Spring 2006).
"When I Come to It," Wisconsin Review 37.2-3 (July 2003): 76-81.
"Dolph in School," Willow Springs 51 (January 2003): 60-72.
"Columbus Reposed," Northwest Florida Review 1.1 (May 2002): 77-88.
"More Room to Pray Golf," Weber Studies 19.2 (Winter 2002): 80-90.
"At the Peak," The Abiko Annual with James Joyce [Japan] 21 (Nov 2001): 253-263.
"Holywood," Willow Springs 48 (June 2001): 45-60, George Garrett Fiction Award.
"Soft Pitch," Aethlon: The Journal of Sport Literature 18.2 (Spring 2001): 67-77.
"Tangerines," Berkeley Fiction Review 20 (March 2000): 49-53.
"Mamala," Oasis 8.2 (Oct-Dec 1999): 55-9.
"Finishing Touch," Art Times 14.1 (August 1997): 17.
"The Owl," Paris Transcontinental [France] 15 (Spring 1997): 23-34.
"Therapy," ELF: Eclectic Literary Forum 5.2 (Summer 1995): 6-9.
"Falling Water," Hawaii Review 41 18.2 (Spring/Fall 1994): 18-20.
"Cactus in a Cuspidor," North Atlantic Review 6 (1994): 256-62.
"Pinchy Ciphering," The Gettysburg Review 6.1 (Winter 1993): 168-76.
"Blast Aria," Mississippi Review 18.2&3 (Summer 1990): 68.
"Below the Rainbow," Writers' Forum 11 (Fall 1985): 36-49.

REFEREED ARTICLES:

"Spatial Cognition in Literature," Mosaic: Interdisciplinary Study of Literature [Canada] 28.2 (June 1995): 1-21.
"Chopin's The Awakening," The Explicator 52.2 (Winter 1994): 90-2.
"Melville's Gam with Poe in Moby-Dick: Bulkington and Pym," Studies in the Novel 21.3 (Fall 1989): 279-91.
"Tradition in Alice Walker's 'To Hell with Dying'," Studies in Short Fiction 26.1 (Winter 1989): 90-4.
"The Animus in Margaret Atwood's Surfacing," Lapis 10 (1984): 41-5.

FREELANCE AND COMMISSIONED ARTICLES:

"The Panama Hat," Dream Fantasy International 32 (2004-5): 58-9.
"Hemingwarp," Palo Alto Review 11.1 (Spring 2002): 21-27.
"Across the River and into the Trees, Ernest Hemingway"; "The Crying of Lot 49, Thomas Pynchon"; "'The Dead', James Joyce"; "The Magus, John Fowles"; "Soldier's Pay, William Faulkner," Cyclopedia of Literary Characters, ed. Frank N. Magill (Pasadena: Salem P, 1990): 11-12, 354-55, 372-73, 945-46, 1437-38.
"Eugene Ionesco, The Lesson," Masterplots II: Drama, ed. Magill (Pasadena: Salem P, 1990): 954-58.
"John Irving," Cyclopedia of World Authors II, ed. Magill (Pasadena: Salem P, 1989): 762-63.

REVIEWS:

Of Saving Faith, novel by Patrick Garry, MidwestBookReview.com 8.10 (Oct 2008-Sep 09)
Of The Complete Short Stories of Ernest Hemingway, The Short Story Review 5.3 (Summer 1988): 12-13.
Of The Best Short Stories 1987, ed. Ann Beattie, The Short Story Review 5.2 (Spring 1988): 7.
Of American Fiction 87, eds. M.C. White and Alan Davis, The Short Story Review 5.1 (Winter 1987-88): 14-15.
Of Stalin's Shoe, novel by Zdena Tomin, The Bloomsbury Review 7.2 (Mar/Apr 1987): 13.
Of Hawthorne: Calvin's Ironic Stepchild, by Agnes M. Donohue, Arizona Quarterly 42.1 (Spring 1986): 92-5.
Of Winterkill, novel by Craig Lesley, Northwest Review 22.3 (1984): 142-4.