FILM REVIEWS
HOME PAGE
BIOGRAPHY
MODEL OF METAPHORS
DANEgerus
Patrick Garry, novelist
Apocalypse Now
The Best Years of Our Lives
The Big Chill
Billy Budd
The Bostonians
Casablanca
Citizen Kane
Close Encounters of the Third Kind
Coming Home
Daisy Miller
The Day of the Locust
Dr. Strangelove
Easy Rider
Fail-Safe
A Farewell to Arms
The Front
Gone with the Wind
Good Night, and Good Luck
The Graduate
The Grapes of Wrath
The Great Gatsby
Guilty by Suspicion
High Noon
Huckleberry Finn
Invasion of the Body Snatchers
Key Largo
The Majestic
Meet John Doe
Moby-Dick
The Old Man and the Sea
On the Waterfront
The Player
The Red Badge of Courage
Reds
The Scarlet Letter
The Shrike, based on Miss Lonelyhearts
2001: A Space Odyssey
The Sun Also Rises
Triumph of the Will
The Way We Were
Wise Blood
The Wizard of Oz
Woodstock
The World According to Garp

Peter Carafiol
Free Speech
Metaphor
archetype
Blacklist
Hollywood Novels
McCarthyism
Communist propaganda
(Film review excerpt from novel Hollyworld)

The Way We Were



Sarah felt deeply ashamed of Hollywood.

Consequently, having read some reviews by other critics, she put off going to see The Way We Were. She dreaded it, but felt obligated to warn people. It was written by Arthur Laurents for Barbra Streisand, who sings the title song on the sound track throughout. The movie had the unreality of a musical like West Side Story, also originated by Laurents, where gang fights on the streets of New York are turned into entertainment, thugs transformed into graceful dancers, their violence sublimated by choreography and song. This fantasy purports to sketch the history of Communism in America from the thirties into the fifties, as a background for a gushy love story.

Streisand plays a Communist, beginning as a college activist in the thirties with a portrait of Lenin on her wall. We are supposed to see her as idealistic, passionate and cute. At a political rally, she elicits a pledge from the students that they will never support going to war for any reason. Here is a Jewish person, during the Holocaust, preaching absolute pacifism. Yet she herself is aggressive, angry, humorless, insulting, demanding, overbearing, self-righteous, intolerant, rude and constantly provoking conflict. She admits that she is a pain in the ass. She admits to all her faults because she is redeemed by her role as the favorite character type in Hollywood, the rebel. This is enough, supposedly, to attract her opposite, played by Robert Redford. The script hops back and forth in time over historical realities that if included would make Streisand look even more foolish. Some are noted in throwaway lines from Redford, such as Stalin's pact with Hitler, but most are simply ignored, such as the Moscow Trials. The odd couple marry, pointedly a union of Communism with Capitalism. Both become screenwriters in Hollywood, but the Screen Writers Guild could not be depicted because it was controlled at the time by Communists whose conduct, if shown accurately, would have placed Streisand clearly on the side of fascism.

Americans became allies of Communists only because Hitler broke his pact with Stalin and attacked the Soviet Union, yet the title of this movie, the theme song and the romance are intended to evoke nostalgia for a short period after World War II when relations between Communists and capitalists were supposedly ideal, with potential signified by Streisand getting pregnant. In one scene, an ad for The Best Years of Our Lives marks the time as just before the hearings by the House Committee, which break up her marriage but do not abort her baby. In real life, however, the investigation into Communism in Hollywood had already started before the war. The couple are unfaithful to each other, she by travelling to the hearings to support the Hollywood Ten--in real life, agents of Stalin. Although ordinary folks see rich Red capitalists as hypocrites, Streisand sees herself as the hope of the world. Finally, Redford decides their marriage will never work and Streisand asks why.

Long awkward silence.

When she asks if it is because of her "style," he answers yes, as if relieved to have been let off the hook, or the hammer and sickle. Just as she could not be only partly pregnant, Communism is not just partly totalitarian. In her fantasy, however, a Communist is merely an idealist who gets "too pushy." This is as close as Streisand gets to an explanation of what Communism means. At a Hollywood costume party everybody dresses up as one of the comical Marx brothers, suggesting the depth of Marxism among them, implying they are harmless. This movie, like so many, equates Communists with liberals, pretending that Communism is all noble idealism. Streisand presents herself in this role as another contender for the most "revolutionary woman" in Hollywood, embodying all social progress, yet she stands up for principles disconnected from the real world. She thinks Communists believe in free speech and that Stalin is a leader worth following. At the end she is crusading to Ban the Bomb, the slogan in red letters, to serve the foreign policy of the Soviet Union by disarming America. The picture might as well have ended with Streisand singing her theme song in a duet with Stalin, cheek to cheek. Sarah thought the picture would appeal mainly to shallow young women who cared as little about history as Streisand and would identify with her rationalizations that help her feel superior to any man who dumps her.

Sarah did not get into the ethnic dimension of the picture, it was too embarrassing. She had many Jewish friends and did not want to reinforce stereotypes. The movie stressed ethnic contrasts between Jews and Gentiles in a grotesquely reductive way, implying for example that Jews are Communists by nature, kibbutzniks incapable of assimilation in a pluralistic society--a common slur. Sarah thought of all the Jews in Hollywood who fought the Reds, beginning with the studio heads who imposed the Blacklist, notably Louie B. Mayer and Jack Warner, and many others such as Budd Schulberg, Leonard Spigelgass, Robert Rossen, Walter Wanger and Kirk Douglas.

"I just couldn't understand what a guy like Redford would see in a nutty woman like that," Frank said. They were sitting in her kitchen, having coffee. "Through the whole movie people kept telling her how beautiful she was, like she needed the flattery."

"Well, inner beauty is what counts."

"I didn't notice that."

"I'm sorry, Frank," she set down her cup. "I promise not to drag you along to any more bad movies."

"That's all right, I like your company."

"Thank you. I like you too. Your inner beauty."

"Oh right!"

They laughed together.

Hollyworld, pages 129-31.
Click Book to Order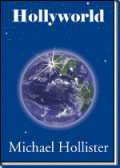 Click Book to Order

The Eisleys film Faulkner's As I Lay Dying, then during the 1960s Ryan turns countercultural and documents the black civil rights, hippie and anti-Vietnam War movements. Their son Davin serves as a medic in Vietnam, while Sarah tries to hold their family together, becomes a film critic in San Francisco, then moves to Portland and enters the Hollyworld of higher education. Their story is interwoven with films including Billy Budd, Dr. Strangelove, The Graduate, Woodstock, Easy Rider, 2001: A Space Odyssey, Close Encounters, Apocalypse Now, Reds, The Big Chill, The Player and The Passion. It exposes Communist propaganda movies, ridicules political correctness, satirizes Marxist movie stars and professors and culminates with the Iraq War. (2006)